Celebrate Your Birthday in Style With Party Bus Guru
The Three Best Places To Celebrate Your Birthday in Sydney
JAMIE'S RESTAURANT – Jamie Oliver opened his first restaurant in Oxford, UK back in 2008 and now has over 40 restaurants worldwide, but the quality has been maintained throughout the expansion.
The restaurant in Sydney is no exception. As you would expect its the perfect Birthday Party location with a wide variety of Italian dishes created by Jamie over his many years of cooking. His restaurants always bring the best of Italian cuisine and atmosphere for every guest to enjoy. Starters range from $4.50 to $15 and Mains from around $22 to $32.
Jamie's offers diners an ideal location to experience a wealth of entertainment venues following a hearty meal from The Sea Life
Aquarium, Art Gallery of New South Wales, The Ivy Complex and The Sydney Metro Theatre all of which are within easy walking distance.
So start out with the dishes known from the Jamie Oliver TV shows to create the foundation for an adventurous day,
Whether you fancy art, animals or theater, or all of them.
Jamie's Restaurant is located convenient in the center of entertainment and sets the cozy atmosphere for either the start of finish of your perfect birthday party.
THE ROOFTOP TERRACE – The Rooftop Terrace is one of the few private rooftops still available for private functions in Sydney. The level is reserved exclusively for you & your guests. It has an inside area with plush couches & ottomans that opens out onto the rooftop terrace. The inside space can be setup as a mingle or dance area. Featuring its own bar, amenities & sweeping views of Pyrmont Bay, Darling Harbour & the city skyline.
The perfect location for a classy stunning view party, that is guaranteed to take the breath away from anyone visiting. This unique opportunity to see the city from the top, enjoy looking down on the buzzing town below and truly dine under the stars.
It will be a birthday party that no one will forget, neither the food, the dancing or the stars.
Facilities including: Dance floor for 120 persons, large outdoor covered area, lounge area, food package menu, bistro menu. The perfect place to have a top floor birthday party.
If you are turning 18 or 80, The Rooftop Terrace is the place to be.
The Rooftop Terrace is located at 96 Union Street and ideally located for restaurants and cafes prior to your late evening dancing and
drinking.
HELITOURS SYDNEY – Looking for a really special birthday day out? Sydney HeliTours has a fantastic variety of luxury lunch escapes to choose from. With a range of destinations including Sydney Harbour, the Hunter Valley, the Blue Mountains, the Central Coast and the Southern Highlands, you will enjoy a once in a life time lunch and flight experience travelling by helicopter.
Start your tour with a scenic helicopter flight over the iconic Sydney Harbour taking in the Sydney Opera House and the Sydney Harbour Bridge, before continuing to your destination where you will enjoy a gourmet lunch at one of our many fabulous dining locations. All their lunch tours are combined with an activity so choose from wine tasting, bushwalking, Australian wildlife, golf or a relaxing spa treatment. Whatever your passion, they can provide an unforgettable day out in one of our luxury helicopters.
Their lunch tour locations have been selected to ensure you experience the very best that the destination has to offer.
Whether it be fine dining and wine tasting in the Hunter Valley, a guided bush walk in the Blue Mountains, or a luxurious spa treatment before lunch, our tours represent the pinnacle of experiences when you want to treat yourself.
Three Best Places To Celebrate Your Birthday in Melbourne
THE RICE QUEEN DINER – Located on Brunswick Street, the Rice Queen will transport you in a world of exotic Asian design where you can forget your daily troubles and enjoy sipping on cocktails whilst enjoying wonderful handpicked Asian dishes from a variety of
locations.
The menu is ideal for those wanting to share a birthday or romantic dinner and to experience as many flavours and smells as possible. The versatile of the Rice Queen is evident in the number of vegetarian and gluten free meals which are available. Drinks come in the form of a selection of wines and beers as well as Japanese Sake and fantastic cocktails all of which complement the food wonderfully.
The Rice Queen also boasts a karaoke room for around 15 persons for those who really want to get into the party mood.
Prices range from $6 for starters, $18 for mains and they even do a "Feed Me" option for $45 you get whatever surprise the chef wants to serve you. All in all a great place to celebrate a birthday.
SEALIFE AQUARIUM – For that fun, entertaining birthday event, check out the Sealife Aquarium. As one of Victoria's leading family and tourist attractions, Melbourne Aquarium offers entertainment for young and old alike. Walk underwater through the glass viewing tunnels and see Australia's marine life like never before! Come within inches of huge sharks, rays and turtles and see some of the remarkable marine and freshwater animals that Australia is famous for.
Sealife Melbourne Aquarium, located on the Yarra waterfront opposite the Crown Casino, is one of Victoria's leading visitor attractions and a great outing for the whole family. If you are after a coffee, or hungry for a hearty meal the all-new Adventurer's Cafe has something for you. Our cafe has a wide range of hot and cold foods including Burgers, Fish & Chips, Seafood, Hot Dogs, Pies and Sausage Rolls, as well as fresh daily made sandwiches, salads and wraps. Most are available in meal and combo options. They also have an assortment of baked items such as cakes and muffins, as well as ice creams and smaller treats.
CRAFTERNOON CAFE – Crafternoon is a whole new café experience. Nurture your creativity with arts and crafts from our make menu while enjoying a coffee and one of their delicious all day breakfasts or lunches.
One of the Top 5 child friendly cafés in Melbourne as published by The Herald Sun Sunday, Time Out Magazine and Hey Bambini. Top 30 of Melbourne's Gourmet Cafe's as listed in the 2013 Good Food Guide.
Release your inner creativity and explore have fun creating and eating, making it a great day for big as small.
The kids birthday parties are the best in Melbourne! The all inclusive and adaptable package will get smiles all 'round.
If you're a bigger kid, book one of the Crafternoon High Teas. Their mini treats will keep your taste buds tingling while you make masks and accessories for a night out.
The perfect way to start off a birthday party with a difference.
Three Best Places To Celebrate Your Birthday in Brisbane
THE BACCHUS RESTAURANT – This Multi-award winning restaurant offers outstanding Aussie creations accompanied by superior service. The Bacchus has been magnificently designed by LA designer Tracy Beckmann and combines the intoxicating aromas created by Head Chef Mark Penna's and an extensive although eclectic wine selection.
Diners can enjoy a VIP atmosphere with unparalleled service which would complement any occasion. Available daily is the famous Bacchus High Tea with freshly baked items along with gourmet teas served in the finest bone china. Along with traditional steak and fish items, The Bacchus also has an extensive vegetarians and vegan selection.
Bacchus is famed for being the home of Dom Perigean in Queensland which is offered as part of its High Tea and Degustation Dining.
Choose Bacchus for your next birthday celebration and experience luxury beyond compare.
KINGSTON PARK RACEWAY – Since opening its doors 17 years ago, Kingston Park Raceway has grown to become Australia's premier Karting and entertainment venue.
The venue hosts on average 40 events a week, from parties to corporate events, of which around a quarter involve major companies from Brisbane and the Gold Coast, the raceway has become a firm favourite by hosting parties for families with young children (with amusement rides and games beside a purpose-built safe track) therefore making it the ideal location for your next birthday party – no matter what age you are.
Grab the gang and take a trip to Kingston Park Raceway soon and you will see why they say It's One Hell of a Day Out!
There are also some great catering options including hot appetisers, outback BBQ and delicious deserts. Prices start from around $60 per person per day.
KOOKABURRA CAFE – It's no wonder other pizza's feel a little inadequate, no one else can measure up to the biggest pizza in
Australia! It's huge! and can have up to 4 of our 21 toppings for you to enjoy. What could be more delicious, fun and easy for your next
party or event than great pizza?
Perhaps a pizza so big that we needed extra wide vans so we could offer it for delivery to your home or function venue! The Kookaburra Cafe Party pizza is perfect for any party, event or function where you want to feed the masses and make a big impression.
With 50 slices to share, the party pizza will make a substantial dent in your guests appetite, but at $70 it isn't going to make a huge dent in your party budget. A single pizza is ideal for 6-8 people, and they can hold any combination of 4 different toppings from the over 20 on our take away menu. The Kookaburra Cafe is located at Given Terrace, Paddington.
Party Bus Guru brings you the Best Party Bus Hire in Sydney, Melbourne & Brisbane.
No other company can match our price match promise, if you can find a cheaper quote for the same service we promise to beat it by 5%.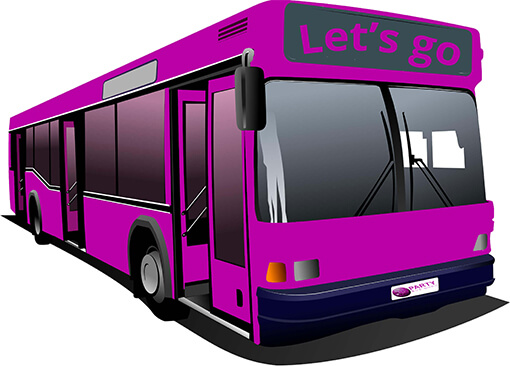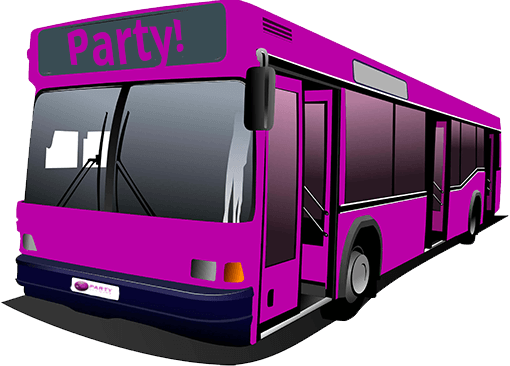 Sign Up To Our Newsletter For Info On The Best Events In Australia
Couldn't have faulted these guys – hired a 22 seat mini bus for a girls day out/adventure – everything went smoothly and our driver was so flexible and relaxed. Even though we had to change the booking a few times, the staff at Party Bus Guru were always helpful and replied quickly to our emails. Definitely recommend!
Thank you to all the staff from Party Bus Guru for such professional and friendly service. Our driver today Vern was fantastic adding to a wonderful day on Sydney Harbour for our work Christmas party. I would highly recommend this company for price and service and will definitely be using you in the future.
We recently booked a bus for a hens function. The bus experience was excellent. Our driver, Eric was absolutely delightful, helpful, and efficient. We stopped at a few wineries in the Yarra Valley and Eric was patient with us all the whole time. Bus was clean and safe. 100% recommend & will definitely use you guys again.