Celebrate Your Graduation in Style With Party Bus Guru
Three Best Places To Celebrate Your Graduation in Sydney
THE HARLEQUIN INN – Located in the downtown Sydney CBD, this venue has a capacity of up to 300 guests. "The Harley" as it is affectionately known is easily accessed via bus, tram and ferries. Previously known as Edinburgh North/South it is equipped with a great little smoking balcony which has superb city views, private toilets, wifi access,iPod connections as well as a stage area for dancing. The Harley can generate a fabulous atmosphere for any function. Choose the furniture layout which suits your celebration whether you choose a stand up buffet or a formal sit-down meal. As you enter there is a huge feature bar in the middle of the room which has a huge stock of all your favourite beers (including tap beers), wines and spirits. For those who have guests with a physical challenge, there is easy wheelchair access. Along with the Star Casino Car Park there is also on-street parking outside nearby. To give the venue a real rock and roll vibe there is even a juke box stocked with 2000 favourite party tunes.
BILSONS OF SYDNEY – Located at 27 O'Connell Street is the contemporary and refined restaurant – Bilsons.
This diners delight combines contemporary decor with a refined grandness. Its large georgian-style windows allows the natural light to stream in through the daylight hours creating a wonderful dining experience.
In the evening their awesome light display makes for an exciting dinner setting.
The food is mainly European and is of very high quality. You can expect lots of fresh ingredients, lavish recipes and an extensive wine
list for those who expect the best.
Bilson's is the perfect location for those looking to celebrate that special event.
The restaurant is located in a very central location,
meaning its easy to continue your evening to either a theatre show or a movie.
WATERVIEW in Bicentennial Park – WatervieW in Bicentennial Park brings you a premier party venue in Sydney. With large verandas, open windows, and spectacular outdoor landscapes, the place offers the perfect setting for birthdays and graduation celebrations.
At Waterview in Bicentennial Park, everything is made easy to make the most of your celebration.
They offer a fantastic event package to make the occasion enjoyable and truly magical.
Whether you're planning small cocktail gatherings or extravagant dinner parties, the dedicated team will be there to help and make sure everything goes perfectly during the celebration.
Located just a few kilometres away from the central business district,the Sydney party venues have everything you need.
Their staff will be more than glad to help plan and make the most of your event.
Three Best Places To Celebrate Your Graduation in Melbourne
FLOWER DRUM RESTAURANT – In China "Flower Drum" is known as a traditional dance famous for its beauty and elegance. In Melbourne, it is a chinese restaurant offering the perfect fun location for your graduation. Offering refinement and a delicacy through the concept of fine dining cantonese cuisine and dedicated service.
Flower Drum believes in combining great food, fine wine and impeccable service for a unique dining experience for your celebration evening.
The menu is a way to explore the huge variety of authentic asian cooking. A la carte, Specials and banquet menus are all available and thoroughly demonstrate the various ways of preparing and cooking these exotic meals. Located at Market Lane in the centre of town offers a wonderful location from which to explore later in the evening.
THE AER BAR – Elevate yourself to a rooftop bar and lounge that has lifted the standards of substance and style.
Aer Bar is unquestionably one of the best spots in the city for open air dining and drinking to really celebrate your graduation in the heart of Melbourne.
The Aer Bar is open for lunch and dinner 7 days a week with a menu featuring tapas dishes, light meals and pub favourites.
Mains from $20 to $40. Located for easy access at Exhibition Street.
City views, with sunshine on your face, eye-pleasing crowds and delicious cocktails; what else could you ask for?
There's a buzz in the Aer – make sure you check it out!
CHARLTON'S BAR – Nothing beats a good old sing along in front of complete strangers, so round up your graduation friends and head to Charlton's Bar, the quintessential public karaoke bar where you're sure to see plenty of entertaining and slightly off-key performances.
Stick around for a boogie on the dance floor next door and if that's not for you, chill out over a game of pool with fellow late-night
revellers.
Located on Coverlid Place, Melbourne.
The Charlton's Bar is a great location if you are going to dine in the area and spend the late night hours singing your heart out with all your close friend.
What better way is there to celebrate your graduation, surrounded by friends, great songs and sing and dance the night away.
Three Best Places To Celebrate Your Graduation in Brisbane
RARE STEAKHOUSE – The Rare Steakhouse the perfect graduation meal with a restaurant who are committed to serving premium quality produce and creating a welcoming environment where customers can savour the flavour of Australian beef at its very best.
The beef is sourced from across the country, ranging from Gippsland and Ballan in Victoria, Murray Bridge in South Australia and Rockhampton in Queensland, and is graded by Meat Standards of Australia for its cut and quality.
The menu is of a varied nature, including oysters, calamari,boerewors, gnocchi and beef spare ribs…is your mouth watering yet?
Well, you are also spoilt for choice as The Rare Steakhouse has 3 locations around town (King Street, Goldie Place and Little Collins
Street.
GPO FUNCTIONS – Host your graduation celebration at the GPO Functions rooms.
They have space to suit groups from 10 to 700 guests and offer premium catering including platters, canapés, one to three course menu choice with a choice of beverage to suit all tastes and budgets.
GPO is one of Brisbane's most recognisable landmarks with superb examples of Victorian style architecture.
The GPO is also surrounded by a huge choice of restaurants, cafes, unique fashion boutiques and bars and its only 5 minutes taxi ride from the CBD.They have a range of the best national and international DJs gracing the decks of the Main Room and a Lounge Bar.
They also have exclusive VIP booths for that private celebratory time.
SKYZONE – Sky Zone graduation parties are about letting go, having a good time and hilarious jokes about telling your teachers to go jump.Its the perfect place to let off steam and celebrate the end of your course.
If you're looking for something a bit different to the usual 'stand around chatting' event how about unleashing the fun with a session at
Sky Zone? On top of the regular jumping, flipping, dodging and dunking activities they can also provide private party rooms, hosts and
catering.
Their cracking team of chefs are on standby with a healthy range of food options prepared on-site, with the freshest quality
food.So whether you're a team of high-flying business post-grads wanting to let your hair down or a nursing class looking for some serious fun,Sky Zone is the best place for group functions.
Party Bus Guru brings you the Best Party Bus Hire in Sydney, Melbourne & Brisbane.
No other company can match our price match promise, if you can find a cheaper quote for the same service we promise to beat it by 5%.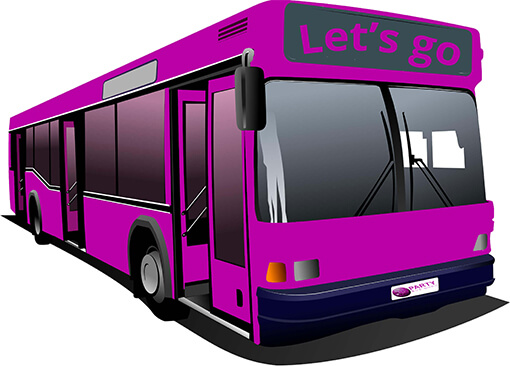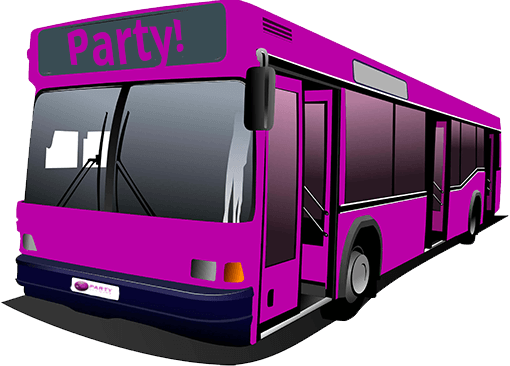 Sign Up To Our Newsletter For Info On The Best Events In Australia
Couldn't have faulted these guys – hired a 22 seat mini bus for a girls day out/adventure – everything went smoothly and our driver was so flexible and relaxed. Even though we had to change the booking a few times, the staff at Party Bus Guru were always helpful and replied quickly to our emails. Definitely recommend!
Thank you to all the staff from Party Bus Guru for such professional and friendly service. Our driver today Vern was fantastic adding to a wonderful day on Sydney Harbour for our work Christmas party. I would highly recommend this company for price and service and will definitely be using you in the future.
We recently booked a bus for a hens function. The bus experience was excellent. Our driver, Eric was absolutely delightful, helpful, and efficient. We stopped at a few wineries in the Yarra Valley and Eric was patient with us all the whole time. Bus was clean and safe. 100% recommend & will definitely use you guys again.